Women's Retreat 2023
October 20 - 22
"My soul, wait in silence for God only, for my hope is from Him. He only is my rock and my salvation, my stronghold; I shall not be shaken. On God my salvation and my glory rest; the rock of my strength, my refuge is in God. Trust in Him at all times, O people; pour out your heart before Him; God is a refuge for us."
Psalm 62:5-8
Waiting on the Savior
Have you ever found yourself in a waiting room, anxious to receive answers, yet at the same time dreading the final test results, not really wanting to know what the doctor has to say? The minutes tick by and the wait feels like torture.
Or maybe you've been in another sort of waiting room, pouring out your pleadings and longings to God, only to find Heaven is yet silent and the wait stretches into months or years.
In the "waiting rooms" of life, it is important that we remember the character and heart of the One on whom we wait. Our gracious, kind, and faithful Father can be trusted fully to do what is best for us.
Make plans now to join us for this year's women's retreat where our theme will be "Waiting on the Savior: A Journey with Jesus through Mark 4-6." As we come away for a time of refreshing and rest, it is our prayer that your hearts will be encouraged to cling more closely to Him in those times when the storm is raging, the wait seems endless, expectations are unmet, and hope seems to be fading.
Retreat Information
Join us for a Great Time!!
Women's Retreat is a unique opportunity to get away from the regular schedules and cares of your life for a time of worship and refreshment with other like-minded women! Enjoy times of laughter, music, prayer, and focused time in God's Word. This is a wonderful time to strengthen relationships and develop new friendships as we come together as a church family.
The beautiful location where we will be staying provides numerous opportunities for games, hiking, relaxing, chatting, and delicious dining.
You may check in starting at 4:00 pm on Friday, October 20. Dinner will be at 5:30 pm with our first session starting at 7:00. Room costs include 2 nights, 5 meals, and snacks! Our last session will be Sunday morning at 11:00.
There is a Saturday only option for those who cannot come for the entire time. This will include lunch and dinner.
Meet our Speaker
Laura Leighninger
Laura grew up in a Christian home in nearby Waynesville but has since lived in Minnesota, Virginia, and South Carolina before returning to Ohio in 2009.  She has been an RN for 31 years, attended two different Bible colleges, and traveled to Mexico, Pakistan, and Turkey on multiple mission trips.  She is a single mom to her two sons Ian and Isaac, and is enjoying her current parenting stage with "nearly grown" young adults.  She loves to study God's Word with other women and homeschooled her two boys for many years.  In her "spare time," she enjoys reading, playing the piano, songwriting, hiking, camping, and simple art projects.
As an ER nurse, she knows a lot about patients but has a lot still to learn about patience.  God has carried her lovingly through some difficult times of waiting.  He has taught her truths about expectations, and He has helped her to anchor her hope firmly in His unending faithfulness.  It is her desire that in these few days together we can walk alongside Jesus through a few chapters in Mark and learn to truly wait on our Savior through any type of challenges and storms we may face.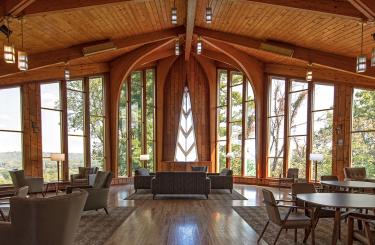 Check out our Destination
General Butler State Resort Park
We have several rooming options with different price points:
4 to a room ($175 per person) hotel style room with 2 queen beds),
3 to a room ($200),
2 to a room ($245),
a few single rooms ($400).
Rooms are hotel style and include linens, towels, and a mini-fridge.
We only have space for 96 ladies.
It's helpful to know who you plan to room with before you register; however, it's not required. We can provide a roomie for you if needed.
Register Today!
Registration opens Sunday, August 6. Follow the URL to the registration site or sign up at the Flourish Women's Ministry table in the foyer.
If you would like to provide a scholarship for an individual to attend, please contact Danielle Burns directly.